private Kruger park safaris
with Professional Guide Andy Wagner
Welcome to Safaria, let us introduce ourselves..
Safaria Privately Guided Kruger Park Safaris offers privately guided safari tours in the world-renowned Kruger National Park in South Africa. With its vast expanse of wilderness and abundant wildlife, the Kruger National Park is a must-visit destination for anyone looking to experience the beauty and diversity of Africa's natural landscapes.
What sets Safaria apart from other tour operators is their focus on providing personalised and flexible tours to suit the individual needs and interests of our clients. Led by well know Kruger Guide, Andy Wagner, his tours offer an intimate and immersive experience of the park, allowing visitors to witness firsthand the wonders of the African bush and its inhabitants.
From half-day tours to multi-day excursions, Safaria has a range of options to choose from, including customised tours tailored to specific interests such as birdwatching or photography.
Whether you're a seasoned wildlife enthusiast or a first-time visitor to Africa, Safaria is the perfect choice for an unforgettable and enriching safari experience.
Discover the Kruger National Park with Private Guide Andy Wagner
You're a step closer to booking your dream Kruger Park Safari. Here are a few guest favourites to get you started.
Private Kruger Park Safari Tours
My family recently did a full day Safari with Andrew and it could not have been a better day. Andrew is enthusiastic and incredibly knowledgeable and never seemed to tire of answering our questions about the animals or the park itself. If we had more time, we would have loved to do another day with Andrew as I cannot possibly imagine another guide doing a better job.
My friends and I did a custom safari tour with Andrew in April 2023 and it was epic. From our first meeting at the airport to our last goodbye Andrew was full of positive energy and enthusiasm. His passion for his job, the park and the animals that inhabit it is honestly inspiring. Everything was super well organised with enough downtime to relax and enjoy the hotel. Andrew expertly fielded questions on mating rituals, possible Lion King plot issues, Megan, Harry & Prince Andrew and the patriarchy. Impressive. I honestly couldn't recommend Andrew more highly - our safaria with him was the trip of a lifetime
Totally amazing Kruger Park guide. We had three days private Safari with Andrew and one of his colleagues. I cannot recommend him highly enough, his knowledge is second to none, his attention to detail and ensuring we saw everything we wanted to see was amazing. His passion for Kruger shines through, he really is an extraordinary guide and a totally charming person to spend the day with. I guarantee you will not find a better Kruger guide.
Andrew was an awesome host, very knowledgable about all things wild from Termites to Leopards. He took our cue that we wanted to know more about the park other than just the animals. He parted with knowledge that was amazing to see and backed it up with sights and sounds that were just as remarkable. Having a break midway through the safari was awesome, giving us all a chance to enjoy a cup of coffee or tea and to stretch our legs. I would greatly recommend Andrew and his company if you are looking for a trip into the Kruger. One of the best policy that I enjoyed that his company has is that they do a one group per vehicle trip. This gives him the ability to focus on the group rather than on having to focus on pleasing everyone who may have different interests. I would give Andrew a 6 our of 5 rating if that were possible. Thank you for a great experience, Andrew.
I recently spent 4 days in Kruger with Andy W, as a solo traveller, and can honestly say the whole experience was fantastic. Andy has passion and an intimate knowledge of the local ecology, making our tour much more than just sightseeing. It was a learning experience as well. He has an eye for spotting game others will miss enabling you to see things without the crowds at times, and maximising the personalised experience. In the limited time I had in the park he was able to tailor our trip to maximise viewing opportunities whilst maintaining a flexible approach based on my preferences.
Transformational! You know that saying, "spending time in nature is healing energy" - well that couldn't be more true for this experience. Andrew is not only a guide who is packed with the knowledge on the biodiversity at Kruger, but he is PASSIONATE about Kruger, and life and nature and humans! Thank You Andrew for not only making this a fun experience for my 3-year toddler-twins, but for also allowing me the time to process my own thoughts against the stunning backdrop of the Lowveld. Your professionalism and the ease it took us to get in and out of the park did not go unnoticed. To those Kruger novices out there, if you have kids under 5 and you're a little nervous about taking them on a game drive experience, trust me don't be, when you're with Andrew you're in safe hands - so go for it! Your kids will be talking about it for days after.
We planned our trip to Africa more than 18 months in advance. We came across Safaria on TripAdvisor a so glad we did. Andrew was great in answering our many question and providing guidance as the trip neared. We got to experience our 4 days with them with 3 guides and all were fabulous. It was also great visiting/ hearing about their time in Kruger and other places in Africa. All of them tried their best to deliver what we wanted to see. Using their knowledge of the park/ land as well as noticing tracks when we got in those areas. Our experience was unbelievable over the 4 days and I know they nor any guide company can guarantee sightings, but we felt like both Hylton and Andrew both would have still delivered many if the animals did not cooperate as they did. Over the 4 days we saw 5 Rhinos, 7 Leopards, Cheetah, Buffalo, over 30 Lions including a complete pride and several feeding, tons of Ellies, tons of Giraffes, Hippos, Crocs, Kudu and on and on. Don't hold it against them if you aren't this lucky as when we shared many were shocked with the quantity seen. We are already talking about a future trip to Kruger and Andrew/ Safaria will definitely be involved in our trip. They were great!
I took an incentive group to Kruger Shalati: The train on the bridge. Being an event producer, I always find it challenging to create a bespoke, one-of-a-kind experience that is different from the limited activities and excursions available in the Kruger National Park. My objective was to create an experience that correlated with my project narrative, create activities and excursions that has not been done before and ultimately deliver an experience that is memorable, unforgettable, and inspiring. We succeeded and the client LOVED IT! This would not have been possible without the guidance, handwork and dedication from the Safaria team. I would highly recommend Andrew and his team!
Absolutely amazing Safari experience. The private setup guarantees the best and most individual trip you can hope for. Andrew knows everything about every animal or plant in the park. Its clear that Kruger Park is his passion for life, by sharing it with his guests he creates a truly inspiring tour. The vehicle is very comfortable and spacious.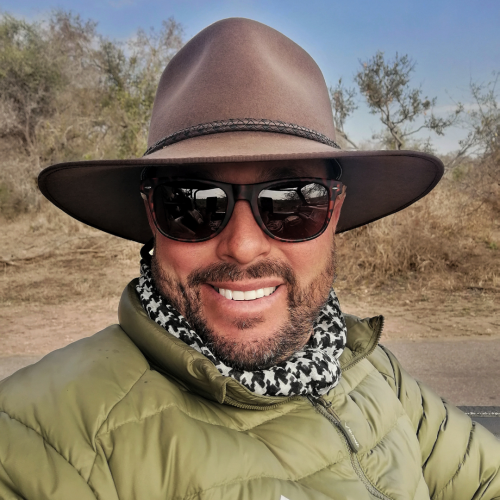 Planning a trip to the Kruger National Park can be a bit daunting if you doing it yourself but with the way travel Is changing and travellers wanting to plan their own trips, it can be simple and easy as long as you pick the right travel partners. 
We are a boutique, family owned, Private Kruger Park Safari operator that takes what we do very seriously. Regarded as the "Harbingers" of Kruger Safaris we have changed the standards and raised the bar without raising the rates. For our client's best interests we hold all the necessary certifications, insurances and affiliations to ensure transparency, commitment and intention. We don't do offer the sausage machine approach but rather a personalised Private Kruger Safari experience that's trusted and regarded as the premium Privately Guided Kruger Park Safari.
 So, welcome to Safaria. We have personalised hundreds of Day and Overnight Kruger Park Safaris for our clients through personal experience have put together a few Frequently Asked Questions to help you better understand the destination. If you find there is something missing get in touch with us at hello@safaria.co.za and we'll gladly help you with planning your Kruger Park Safari.