Privately Guided Kruger Safaris
Our Covid-19 Responsible Protocols
Discover the Kruger National Park with Us
You're a step closer to booking your dream Kruger Park Safari. Here are a few guest favourites to get you started.
Private Kruger Park Safari Tours
Great Service Great Safari Wow, what a great experience with Safaria. Every detail from booking to entrance was perfectly handled. On arrival at the gate we were met by our Guide and literally jumped aboard the smartest safari vehicle around and made our way into the Park. A great treat was the amazing Coffee we had whilst taking in all the early morning sounds and great views of the Kruger Park. We couldn't have asked for more, a truly wonderful experience that everyone visiting the Kruger Park must book. Safaria offers a 5 Star Day Safari in the Kruger Park.
One of the best experiences of my life. Not only very organized, punctual & easy going, but also you will have the best time ever. They are fun and you will learn a lot, simply the best choice no need to look for more.
Excellent tour guide, thanks for all the information, the experience was very informative! Thank you Safaria
A truly refreshing experience going on safari with Safaria. You can just feel their passion and its so apparent in the way they share the Kruger Park. A really professional and informative experience that we hope to experience again. From start to finish they delivered on their every word.
The Perfect Safari ! Couldn't have asked for a more perfect experience of the Kruger National Park. We decided to book a Full Day Ulendo Safari with Safaria after seeing the rave reviews on TripAvisor. I was not let down once and my expectations were superseded. Their brand new open safari vehicles made touring the Kruger Park exciting and comfortable. We had incredible sightings and our guide was really informative and interesting to listen too. What specifically came across was the attention to detail. The small things are done really well. They are a truly wonderful day safari operator which I highly recommend.
The best fun ever exploring the Kruger National Park with Safaria. Its exactly how i imagined it. It was the perfect morning, our guide met us at Phabeni Gate bright and early. All the paper work was already done so we didn't have to queue and just jumped on the jeep and off we went. Safaria creates a real organic experience, there was no routine at all. Our guide started with the geology and worked his way up to the specific species making it really education and loads of fun. We had some great sightings and it was an experience i'll never forget.
Kruger's Day Safari Benchmark My wife and I have done many safaris in the Kruger Park and have used many operators. Safaria are hands down the best day safari tour operator that we have experienced. Their entire approach to safari and the Kruger Park is personalised and focussed on you and the experience. Our guide opened our eyes to the smaller details and we learnt so much. Yes, we saw the Big 5 but it was the little things like the grasses and termites and the ancient wisdoms that really made it fantastic. Well done Safaria, we will certainly be back.
Andrew was an awesome host, very knowledgable about all things wild from Termites to Leopards. He took our cue that we wanted to know more about the park other than just the animals. He parted with knowledge that was amazing to see and backed it up with sights and sounds that were just as remarkable. Having a break midway through the safari was awesome, giving us all a chance to enjoy a cup of coffee or tea and to stretch our legs. I would greatly recommend Andrew and his company if you are looking for a trip into the Kruger. One of the best policy that I enjoyed that his company has is that they do a one group per vehicle trip. This gives him the ability to focus on the group rather than on having to focus on pleasing everyone who may have different interests. I would give Andrew a 6 our of 5 rating if that were possible. Thank you for a great experience, Andrew.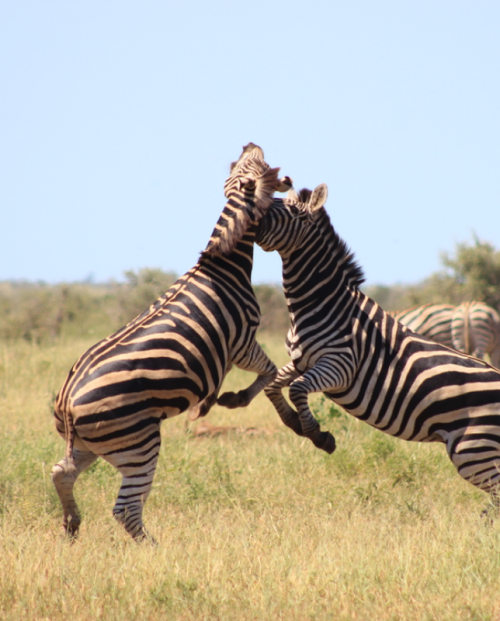 Planning a trip to the Kruger National Park can be a bit daunting if you doing it yourself but with the way travel Is changing and travellers wanting to plan their own trips, it can be simple and easy as long as you pick the right travel partners. 
We are a boutique, family owned, Private Kruger Park Safari operator that takes what we do very seriously. Regarded as the "Harbingers" of Kruger Safaris we have changed the standards and raised the bar without raising the rates. For our client's best interests we hold all the necessary certifications, insurances and affiliations to ensure transparency, commitment and intention. We don't do offer the sausage machine approach but rather a personalised Private Kruger Safari experience that's trusted and regarded as the premium Privately Guided Kruger Park Safari.
 So, welcome to Safaria. We have personalised hundreds of Day and Overnight Kruger Park Safaris for our clients through personal experience have put together a few Frequently Asked Questions to help you better understand the destination. If you find there is something missing get in touch with us at [email protected] and we'll gladly help you with planning your Kruger Park Safari.